Talking with people at the UN,
a technical university in Hanoi, the creator of PenDragon software,
the editor of Pen Computing magazine and e-mailing mountains of questions
to the patient people at BKKBN were just part of the adventure of converting sets of 12" x 18" forms used by volunteers to record information provided by their neighbors
into something electronic that would seem "the same".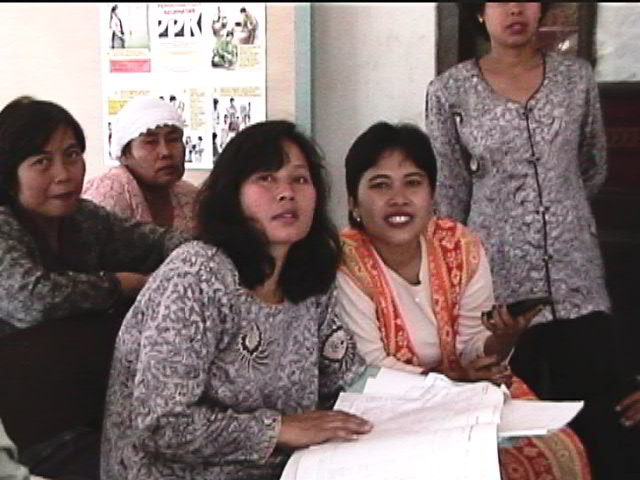 Would it work?
Would people who had never used a telephone
much less a computer be willing and able to use the system?
Would their neighbors be so intimidated by the technology
they wouldn't provide information?
Would the system survive 100 degree heat, tropical downpours and dust?
First I spent weeks meeting and explaining the project to BKKBN officials
at every level from national to precinct to village.
Every minute was worthwhile because each had suggestions
to help make the project a success.
Two areas, one urban and one rural, were selected for the field test,
I put the final touches to my training program,
screwed my courage to the sticking point and began
working with my first set of volunteer data collectors.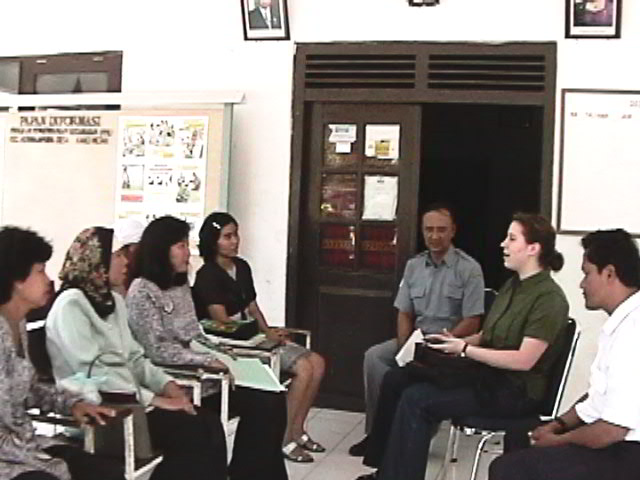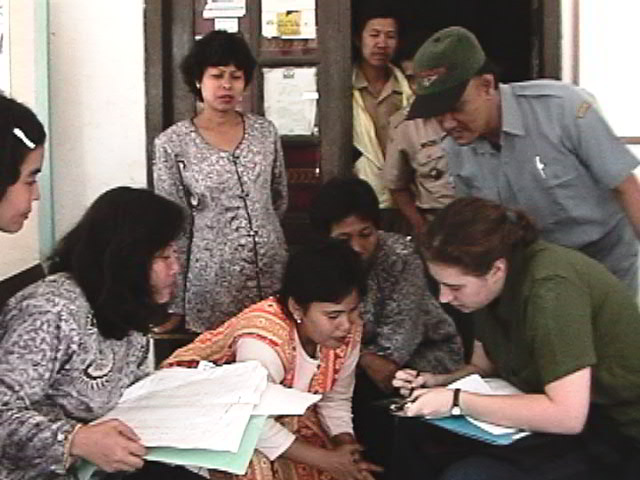 The first training session took place on the front porch of the village head's office.
Along with the kaders (village
volunteer data collectors) I also met the village head and his wife,
the local BKKBN employees and many others from the area.
By the end of the day, as more people gathered around,
it felt as though the whole village was watching.
It was a hit!
The kaders were quick learners,
and they were enthusiastic about replacing their huge paper forms
with modern technology.
We had several sessions,
ironed out problems, hard and soft,
and after everybody had practiced enough to feel confident,
we took our show on the road.
Literally down the road,
around the corner and into the houses of people from all walks of life,
rich and poor, to ask innumerable questions about their lives
and record the answers on the palm computer.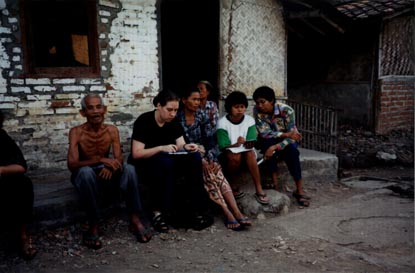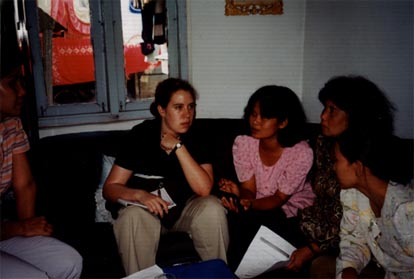 Detailed field test results were published in the
Proceedings of the 12th Annual Colloquium
of the Spatial Information Research Centre
The next step?
Developing a plan for a pilot project incorporating the collection of geographic data,
attaching it to the text data and incorporating it into a geographic information system (GIS) is in progress.