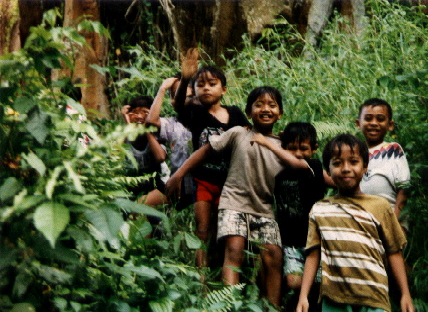 A group of kids near Ubud, Bali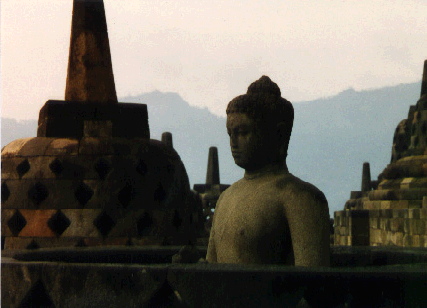 Borobudur - the largest Buddhist temple in the world

In the Monkey Forest near my host city Cirebon, Jawa Barat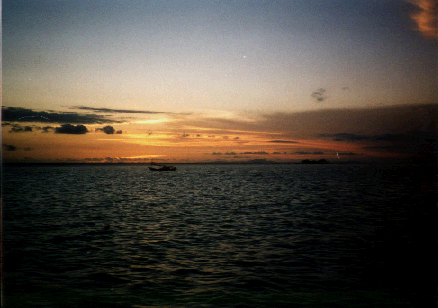 Sunset on a boat on the Sunda Straits between Java and Sumatra
When Rotary asked me to pick which countries interested me most for a year-long student exchange, I asked for change.

I sure got it.
Absolutely nothing in the Republic of Indonesia is like home: not sights, sounds, tastes; not relationships or interests; not what's right and wrong, what's polite or impolite. Even the covers on car seats are completely different. Know what woke me up daily in Jakarta, a city of skyscrapers and 12 million people? Roosters crowing!

My experiences in Indonesia have changed my life forever.
I lived in Cirebon, a city of 250,000 whose daytime population swells to 2 million, all squeezed into an amazingly small space between the towering Ciremai volcano and the north coast of the Java Sea. Cirebon is a place hardly any tourists visit except people making pilgrimages to the grave of one of the nine great Walis, and for most of the year I was the only foreign student for hundreds of miles. The hardest thing to get used to was being stared at all of the time as though I were from another planet - which sometimes I felt I was!

I lived with two great host families, the Tanuwidjaya's and the Kartiwa's, went to high school at SMA 4, formed life-long friendships with so many caring people, and was hosted by the best Rotary Club in the world, Rotary Club Cirebon. Leaving in August of 1997 was unbelievably painful.

Less than 9 months later, I was back.
Unfortunately, I landed on May 13 as rioting began, hours before the road from the airport was shut. I spent the next 3 weeks in a sealed house with Indonesian friends, listening for gunshots and signs of fire before the massive riots eventually brought down Indonesia's second president, Suharto.

Do you have an impression of Indonesia as an unpredictable land of violent people? We in the West only hear news about bad things that happen half way around the world, and have little understanding of the mind-set of the East. Living in a culture where nine hundred years ago is yesterday and tomorrow never comes, Indonesians are the nicest people I have ever met, and far more patient and non-violent than some citizens of the US, my native land.

I invite you to share some of my experiences and, in the process, learn more about the wonders of my second home -- which is shared by the world's fourth largest human population and the greatest diversity of flora and fauna on the planet.